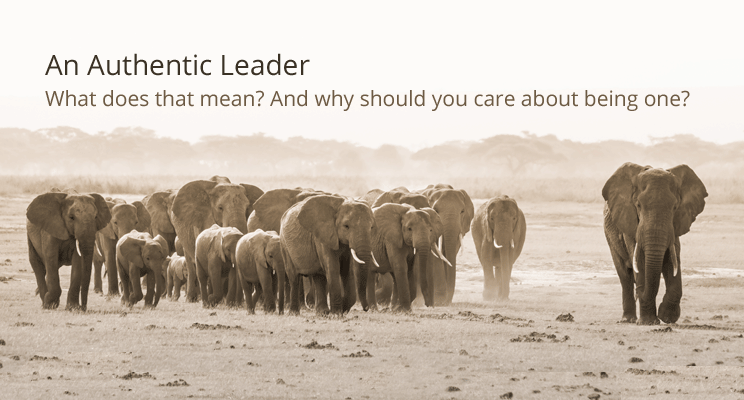 The great leaders I've known in my life are all uniquely powerful due to different skills and attributes. My Dad: quiet humility and steady execution. A former boss: nurturing with an ability to give others tough feedback. A client director I worked with recently: throws people in the deep end with trust, support and transparency. Each leader we know brings a unique set of skills and passion. Yet, what is shared amongst powerful leaders is authenticity, a clear understanding of who they are and what they care about most. When a leader possesses this clear understanding, we can perceive that. We can see the consistency in how they show up and with the initiatives they choose to pursue.
"Authentic leadership" can be difficult to define. It can be more of a "you know it when you see it" concept. Yet, it's leadership based on a clear passion, a consistent practice of demonstrating values and a willingness to lead with one's heart as well as one's head so we see the person behind the leadership.
And why should you care about being an authentic leader? Quite frankly because others trust and follow authentic leaders. And, more notably, they follow these leaders for the long-haul and to achieve audacious results. Authentic leaders are seen as reliable, trustworthy and genuine individuals. Because they know themselves well and are clear about their values and passions, their words match up with their actions and with their facial expressions and body language. We see and sense the alignment in them. They mean what they say, their passion comes through over time telling us a story, and if we like the story, we want to be a part of it! Authentic leaders generate followership.
The client director I worked with recently: The leaders who reported to her were willing to take big risks, really big risks. Like, $25 million risks. Why? Because they know she has their backs. They know she'll give them all the information she has and trust them to do their best. They know this because she does it consistency and because she's told them this is the kind of leader she is.
My previous boss: Leaders throughout the organization went to her in times of struggle or opportunity to get her advice. Why? Because she would listen, build them up and be straight with them. She delivered tough, straight-forward messages in a nurturing way. People would hear her because she demonstrated how much she cared. She got the reputation as a leader to go to for advice because she was consistent with her caring, authentic responses.
Being an authentic leader benefits you and those around you. So, how do you tune into, create or strengthen your authentic leadership? It's all about self-awareness. Take a little time to reflect. Look behind you and in front of you. What events or circumstances have shaped who you are today? What's your story? What's most important in your life and why? And then… How do you want to impact others? The business? The world? What legacy do you want to leave?
It's typically validating and affirming to declare who you want to be as a leader. I've had the privilege for some time now to help lead an Emerging Leaders Program for a client in which the Emerging Leaders complete a Leadership Autobiography, answering many of the reflection questions listed above. 8 years ago, I completed my autobiography. It was exciting to declare that I'm about inspiring leaders to do leadership their own unique way; and that the values of partnership, win/win, courage and movement are most important to me. Since then, I've aimed to line up my work even more closely with that passion.
Over time, as you practice authentic leadership, it's rewarding to sense or hear that others see you as you see yourself. When a business partner reaches out to me because they have a coaching client who is looking to carve out the next phase of her life and balance work and life in a better way (doing life her way!) and they think I'd be a good fit for her, I feel a great sense of satisfaction knowing that business partner has seen and heard my passion.
The great thing about authentic leadership is that we all have some to share! We just need to look, uncover, declare and begin to practice regularly.
Interested in learning more from articles like this? Please check out our blog at https://stccg.com/blog/.